This is my original charcoal making setup. It works great if you are making biochar, but not so good for bladesmithing and smelting. I have moved to other methods but there is room for improvement here. Let me know if you modify it to get better quantity charcoal.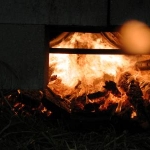 Making charcoal is surprisingly easy.  But it is not something you want to do in your backyard except in small quantities.  The method I describe here is what is known as the retort or indirect method.  Basically, wood is placed in a container and cooked.  All the volatile gases are driven off and charcoal remains.  This is exactly the method used be the wood chemical industry before petrochemicals superseded it.  We, however are going to use these volatile gases as fuel for the charcoal making fire.  Almost like pulling yourself of by your bootstraps but not quite.    \The concept is simple.  Start a fire under the container.   Begin driving off the gases.  Route these gases back under the container.  Ignite the gases with the fire already burning under the container.  Use these gases to drive of more gas and ignite without adding any other fuel to the fire.  When the gas is all driven off the fire dies. Let everything cool off, open the container and you have charcoal.
I use pine charcoal. It burns hot and clean with virtually no ash.  It also burns fast.  I burn up a lot of charcoal when I am forging.  I have tried hardwood charcoal in my forge but it seems to burn down to a lot of ash and small pieces restricting the air flow.  I also have a hard time getting it to welding heat.  Small blades such as knives were fine, but I could not seem to generate the heat I needed for the large hunks of steel I forge and weld.
I get my raw material from construction sites.  I have never had anybody tell me no when I ask to pick up their cutoff scrap.  For me this is ideal raw material.  It is scrap that would go in a land fill.  It is already the right size for efficient cooking and it has already been dried.  This is important.  If you use green wood you will use a lot of energy just driving off the water.  This is the only material I have ever used. If you use something else you are breaking new ground and will have to experiment with the info I give you here. One caveat here. Never use pressure treated wood.  One of the ingredients is arsenic.  You do not what to burn it and release the vapors for you or anyone else to breathe.  If you are not sure whether piece of wood is pressure treated leave it.  The same goes for ply wood, the glues and binders can be nasty stuff.
The method I use requires 55 gallon barrels.  Once you get the idea I am sure you can modify this method to suite your needs.
32 Responses to "55 Gallon Drum Retort"