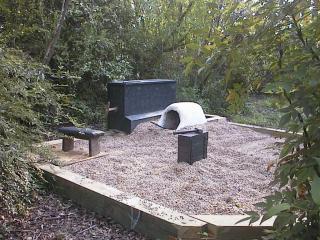 Welcome to Katanabuilders!
The world of the Japanese sword is incredibly deep and rich.
Even one small aspect of it can consume a lifetime of study. A tsuba maker alone can spend his life exploring base materials, patinas, precious metal inlays and so on.
That is one of the appeals (and frustrations) of the Japanese sword-there is no end to the depths you can go with it. There is simply too much to know.
Simple Concept
A Katana is a deceptively simple weapon. Take any metal, aluminum even, put some curve into it, or not, file or grind an edge on it, have a safe way to hold it and you can kill someone with it.
That's it. A sword is nothing more than a hunk of metal with a sharp edge-any more is simply refinement.
It is this refinement that we are exploring.
We will also not shy away from the swords main function-to cut and kill a human being. Thankfully, it is not used to any real degree in this day and time. We have found much more efficient ways of turning our fellow human beings into inanimate objects.
But, we can never stray from the main function of a blade. To do so makes it something else.
Who am I?
I have been making blades of one sort or another since 1975. I have made knives, swords, woodworking planes, chisels and so on.
It has always been a part-time but passionate endeavor.
In 1980 I was fortunate enough be in Dallas when now Mukansa swordsmith Yoshindo Yoshihara and his brother Shoji set up shop at the University of Dallas. They along with a retinue of Togishi, Sayashi , Habakishi etc. stayed and worked for a month.
It was an unprecedented opportunity for us in the US to see how it was really done-As opposed to the conjecture found in almost all books of the time in English.
The organizer of the event, R.B. Caldwell built a Kagi-ba in his expansive back yard and the next year Mr. Yoshihara conducted a two week school on the making of the Japanese sword.
Later I was able to work with a smith from the Osaka area named Taizoh Nakagawa. He was visiting his niece in Dallas and worked at the Caldwell forge while he was here.
Your ads will be inserted here by
Easy AdSense.
Please go to the plugin admin page to
Paste your ad code OR
Suppress this ad slot.
My formal exposure to the art of the Nihonto has been short and intense. Sometimes though all you need is the seed.
I spent many years nurturing that seed.
Life Happens
But always, except for the last 4 years, I have had some place to forge steel. The picture above is a forge I put together at a rent house where I lived after purchasing the land where I now live and before starting the house. Many things have happened in the intervening years. Not the least of which is spending 7 years building my house myself.
It is time now to rekindle the fire and make blades.
Day Job
My professional life has been one of Machinist, Machine Tool Engineer, Training Manager and now Machinery Related Sales. It is a world filled with state of the art, computer controlled, metal cutting equipment. And I love it. Some of these very sophisticated toys are fantastic.
But here at KatanaBuilders, we are primarily looking at a more simplistic way of working. We want to nurture the mind/body magic that occurs when we are superbly attuned to our tools and material. Some machinery is essential. A power hammer for one. The size of the material makes it almost impossible to work it with a hand hammer. Traditional methods used two to three helpers wielding 16 pound sledge hammers in unison. Not an everyday option for me.
Do not misunderstand. The creativity and skill required to create a process, write a program, set up the machine and make accurate parts over and over is no less than that required to hammer steel into a blade.
We allow machines to make decisions for us. A potters wheel almost automatically makes a pot round. If you want to make an asymmetrical pot, don't use a potters wheel.
We will examine the pros and cons of the use of machinery. You decide what is right for you.
There are many ways to end up with a fine katana in your hand.
What occurs here is but one of them.
Discovery and Learning
The truth is-while I enjoy the making I enjoy discovery more. Digging deep into the why and the how of something is what really drives me. Here at KatanaBuilders I will share what I already know and together we will discover more. The blog portion of this site-Katanablog-begins with the building and equipping a Kagi-ba, literally from the ground up. As things progress there will be plans and drawings available for just about anything I build.
Some will be for sale in order to help keep this journey moving.
Looking back these many years and my woeful lack of aptitude at the time I leave you with one thought.
You Can Do It!
Thank you for visiting KatanaBuilders and welcome to the world of fire, anvil and steel.
Dano
334 Responses to "About KatanaBuilders"