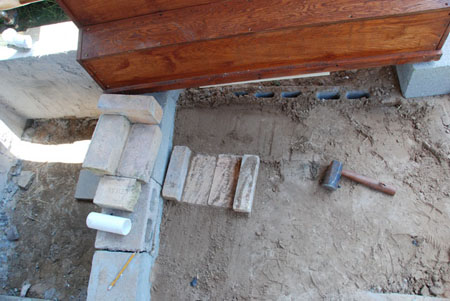 Complexity hiding within
Like most all Japanese tools there is certain amount of complexity hiding in a simple design. But before we dive off into the building of a traditional side blast charcoal forge-lets examine our choice of fuel.
The three main forging fuels available today are coal, charcoal and gas-primarily propane. The first two,  coal and charcoal are known as solid fuels. Propane is known as, well-gas.
Gas is the way to go
Of the three, gas is by far the easiest and cleanest fuel to use. With help from the Internet you can make a forge from a paint can that will forge small blades. Bigger forges are not that difficult or expensive to build.
The fuel is available almost everywhere. It is the same fuel and tanks used for gas barbecue grills. Other than the noise of the anvil, running a gas forge is no more invasive to neighbors than grilling a steak.
There is virtually no fire maintenance skills needed. Once the forge is built and tuned there is little need to fiddle with it while working the steel. Forge welding is easier in a gas forge as well.