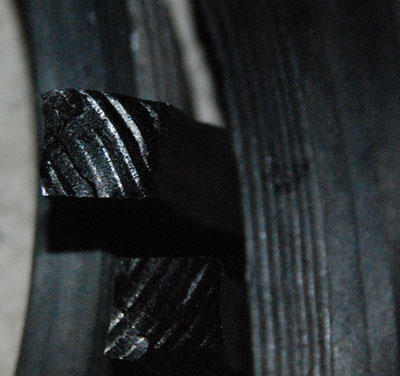 Why Make It?
Back in Building The Forge-Part two I talked about my reasons for using charcoal. But why go to the time and trouble to make it?
First-I like doing it. It is a bit like alchemy. Start with one material -apply fire- get a different material.
Second-I like the idea of creating the whole process. Later we will talk about smelting our own steel.
Third-It is cheaper than buying it. Plus, I am recycling a waste product-construction scraps.
Fourth-and most importantly-I cannot easily buy the type of charcoal I need. Pine in general-Specifically metallurgical grade pine charcoal.
Hardwood charcoal
Almost all charcoal in this country is made from hardwoods. Most of that is destined to be made into briquettes. It is powdered, mixed with binders and other "stuff" and pressed into briquettes. These can be used for forging but they are far from ideal. Raw lump charcoal can be purchased but it is expensive and it is still hardwood.
Your ads will be inserted here by
Easy AdSense.
Please go to the plugin admin page to
Paste your ad code OR
Suppress this ad slot.
Hardwood charcoal burns relatively cool and it creates a lot of ash and small bits. This last part is the biggest drawback. It restricts the air flow and makes the fire "dirty".
Pine on the other hand burns hot (and fast) with no ash. It will burn into small pieces but not to the extend that hardwood does. Pine basically just burns up and disappears,giving off a lot of heat and leaving little residue.
First hand experience
I know all this because when I first set up my Japanese style forge I bought 1000 lbs of hardwood charcoal from a charcoal making business in southern Missouri.
I spent eight frustrating months burning up this charcoal with little success. I could not get it to forge weld and I was constantly fighting the fire. At one point I was ready to admit that I had no skill for this.
Finally someone reminded me that the Japanese used pine charcoal. I couldn't see how that would make any difference. After all charcoal was charcoal-right?
He said "Read my lips-THE JAPANESE SMITHS USE PINE CHARCOAL"
Okay-Okay- I hear you. I tracked down some raw pine charcoal and tried it.
Hallelujah-I made a forge weld right out of the gate. The steel got hotter faster and I had to fuss with the fire a lot less.
Research and Development
It was a fluke that I  had found some pine charcoal. The company had done a trial burn and determined not to use pine. They would make it for my though-5 ton minimum order.
I did a bunch of research and experimentation and came up with the system shown in Making Charcoal-Part One utilizing pine construction scraps.
I have already talked about how this system is pretty good but it does not give me really good quality charcoal. Back to the drawing board once again.

The Testing Setup
In order to control the process better I started with a small scale retort (paint can), identically sized pieces of wood and a high temperature wood stove thermometer.
I then put this into a larger bucket and built a fire around it. Trying to maintain a constant temperature was a bit of a challenge but doable.
With this setup we we can quickly make a batch of charcoal in an hour or so and record the results.
Next-What we found out
85 Responses to "Making Charcoal-Part Two"